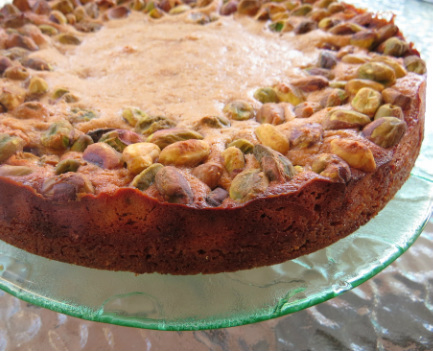 ♥ Makes an 18cm round cake ♥ serves 4-6 ♥ 20 Mins Prep ♥ 30 mins Cooking Time ♥
Ingredients
190 grams almond meal
115 grams soft brown sugar
115 grams raw or demerara sugar (I used CSR Logicain sugar - low GI)
1/2 tsp salt
70 grams butter, unsalted and softened
2 small eggs (or one large egg)
130 grams Greek yogurt, plus extra to serve
1/2 heaped tsp cinnamon, ground
1/2 tsp cardamom, ground
1/2 tsp nutmeg, ground
3-4 tablespoons pistachios, shelled and unsalted
Method
Preheat the oven to 180C.
Grease and line an 18 cm spring-form tin with baking paper.

Combine almond meal, brown sugar, demarara sugar and salt in a bowl.

Chop the butter into cubes and add to the almond and sugar mixture. Rub into the mixture with your fingertips until it resembles coarse breadcrumbs.

Spoon half the mixture into the prepared tin. Press down to evenly cover the base.

To the remaining mixture, add the eggs, yoghurt and spices. Beat with a stirring spoon until smooth.

Pour this mixture over the base in the tin.

Sprinkle the pistachios over the top of the cake.

Bake until golden brown and just set, about 40 minutes.

Cool completely before gently removing the tin. Transfer carefully to a serving plate.

Serve with extra Greek yoghurt and fresh berries.