Fingerbun Recipe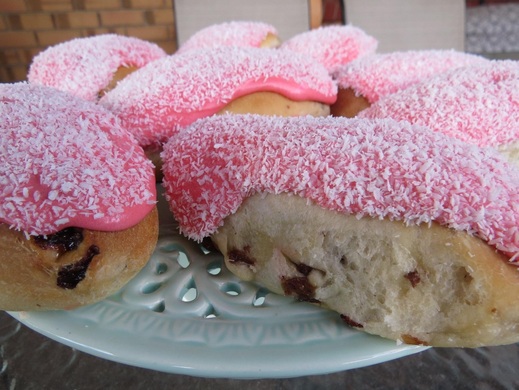 Ingredients
Makes 8 buns

Bun Dough
2 -3 cups strong plain flour
2 tsp dry yeast
1/2 tsp salt
1/3 cup caster sugar
1 tsp olive oil
2/3 cup sultanas - optional
1 cup lukewarm water (I use half cold, half hot).

Bun Glaze
1/4 cup sugar
1/4 cup water

Bun Icing
2 cups icing sugar
2 tbs soft butter
1 tbs milk
1/2 tsp vanilla essence (optional)
A few drops of red food colouring
1 cup dessicated coconut to decorate


Method

Bun Dough
1. Combine 2 cups flour, yeast, salt and caster sugar in a bowl.

2. Add water and oil to the dry mixture. Combine until it becomes a slightly sticky dough that comes away from the bowl sides. You might need extra flour. Add bit-by-bit as required.

3. Knead dough on a floured surface for 5-10 minutes with the lower palms of your hand. After kneading, the dough should be stretchy and soft. (Tip: If dough sticks to your hands while kneading, cover with flour and continue).

4. Add sultanas to the dough and work through until evenly spread.

5. Place the bowl in warm place covered with cling wrap. Leave for about 1 hour or until doubled in size.

6. Once the dough has doubled, put it onto a floured surface. Knock back and knead for a minute or two.

7. Divide the dough into 8 equal parts. Roll each part into a sausage shape (about 15cm in length). Place each 'sausage' onto a large tray (greased and lined). Leave about 1-2 cm between each one.

8. Cover with a tea towel. Place in a warm spot and let the dough double in size again.
(Note: Portions should slightly touch after they've risen).

9. Cook at 190C for 15-20 minutes until bread is golden.

Bun Glaze
1.Put sugar and water into a saucepan over a moderate heat.

2. Stir until the sugar dissolves. Boil for 1-2 minutes and remove from heat.

3. When the buns are slightly cool, spread glaze over them with a pastry brush.

Note: The glaze is optional, but does give the buns a shiny appearance.

Bun Icing
1. Beat butter until soft. Sift icing sugar and stir into the mixture. Beat in milk, vanilla and food colouring. If the icing consistency is too runny, add extra icing sugar to thicken.

2. When buns are cool, ice them using a butter knife. Roll the top of each bun in coconut.